Oticon Dynamo - More power

to participate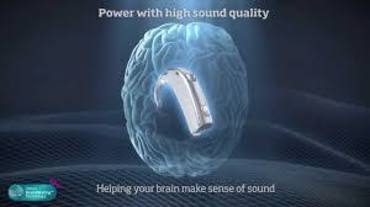 If you have severe or profound hearing loss, you know all too well that there's a big difference between hearing sounds and making sense of them. Dynamo allows you to enjoy a more complete sound experience. Even with a powerful hearing aid, high-frequency sounds that are critical for speech understanding may be lost, making it hard to catch the meaning. With Dynamo your brain gets access to the fuller spectrum of sounds and lets you capture more speech details. Built on decades of hearing aid leadership, Dynamo is as reliable as it is powerful. You can count on it to keep working for you – 24 hours a day, in any weather, and no matter how active a lifestyle you lead – without annoying feedback.
Dynamo is a slim and powerful hearing aid.

Oticon Dynamo is a BTE 13 Super Power instrument built on the IniumSense platform, with a peak output of 139 dB SPL and a peak full-on gain of 78dB. Dynamo uses the new Inium Sense feedback shiel dSP, an efficient anti-feedback system. Dynamo is designed for patient swith severe-to-profound hearing loss who want a slim super power instrument, easy access to volume control, and support for individual listening preferences to ensure optimal speech understanding.
Dynamo features a unique combination approach to signal processing: Speech Rescue™ performs precise frequency composition to ensure fuller access to high frequency sounds while Speech Guard E's advanced adaptive compression preserves important speech details.

Speech Rescue™
Oticon's innovative frequency composition technology, Speech Rescue, increases speech understanding by rescuing speech cues that might otherwise be lost. Speech Rescue repositions higher frequency speech energy intoavailable mid-frequency spaces with minimal disruption in the mid frequencies. Speech Rescue provides the option to then turn down thehigh frequency gain or to provide the complete bandwidth of amplification even when Speech Rescue is on.
YouMatic Premium
YouMatic is a personal automatic system programmed to the patient's individual needs and sound preferences. YouMatic controls the sound processing across multiple environments by adjusting instrument response times, directionality, noise management, and transient management.

Speech Guard E
Speech Guard E is the amplitud ecompression system in Dynamo SP10 and SP8. It combines two methods of amplification, non-linear and linear, into a single compression system that helps preserve the fine details of sound - from soft to loud - making sounds audible, comfortable and clear. This compression system guards the dynamic contrast of the entire signal to let the rescued high frequency speech sounds appear more clearly ata lower frequency region.
Inium Sense feedback shiel dSP
Inium Sense feedback shiel dSP ensures that feedback is controlled in thefrequency regions where the risk of feedback is highest. It is specifically adapted for severe-to-profound hearing losses, supporting SpeechRescue and an extended Super Power bandwidth.
Family Features
❍ Speech Guard E
❍ Speech Rescue™
❍ Inium Sense feedback shieldSP
❍ Binaural Noise Management
❍ Binaural Synchronization
❍ Binaural Coordination
❍ YouMatic
❍ Dynamic Speech Enhancement(DSE)
❍ Fitting Bandwidth 6.5 kHz*
❍ Free Focus
❍ TriState Noise Management
❍ Transient Management
❍ Activity Analyzer (datalogging)
❍ Bimodal support
❍ T-coil
❍ Special Purpose programs
❍ AutoPhone Program
❍ Back dir
❍ Power Bass (streaming)
❍ Music Widening (streaming)
❍ Multi-band Adaptive Directionality
❍ NAL, NAL-RP, DSL
❍ ConnectLine, Streamer, andRemote Control compatible
❍ DAI input and FM option
❍ Voice Priority i ™
❍ In-situ audiometry
❍ EasyRECD™
❍ IP 58 classification for dust andwater resistance
❍ Analog volume control w/mute
PRODUCT INFORMATIONOTICON DYNAMO

| | | | | |
| --- | --- | --- | --- | --- |
| Features | Dynamo SP10 | Dynamo SP8 | Dynamo SP6 | Dynamo SP4 |
| DSE personal profiles | 5 | 3 | 3 | 1 |
| Speech Guard E | + | + | - | - |
| Single compression | - | - | + | + |
| Binaural Noise Management | + | - | - | - |
| Binaural Synchronization (automatics) | + | + | - | - |
| YouMatic | Premium | Advanced | Essential | - |
| Noise Management | Transient, TriState | TriState | Standard | Standard |
| Free Focus | Premium | Advanced | Essential | Basic |
| Back dir ("backwards directionality") | + | + | + | - |
| Power Bass (streaming) | + | - | - | - |
| Music Widening (streaming) | + | - | - | - |
| Voice Priority i ™ | + | + | + | - |
| Special Purpose programs (music, lecture, etc.) | + | + | + | - |
| Easy RECD™ | + | + | + | - |
| Fitting Bands | 9 | 8 | 6 | 4 |