Beltone First hearing aids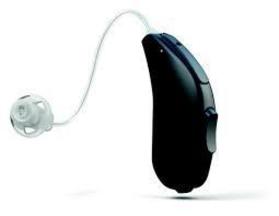 Beltone First is all about making something life changing. About setting new standards in sound quality, comfort and connectivity so you get the mostout of life

A Made for iPhone® hearing aid Stream voices from phone calls and even listen to your favorite music from your iPhone, iPad® and iPod touch® directly in your Beltone First hearing aids, without an adapter or downloading an app. Beltone First is also compatible with Beltone Direct wireless accessories. What it all means is that you not only stay connected, but you create your very own Personal Wireless Network.

A revolutionary Made for iPhone hearing aid
Thanks to Beltone First's industry-leading 2.4 GHz wireless connection, you can now stream sound directly from an iPhone to your hearing aids without having to wear any sort of adapter. With cutting edge wireless technology you can stream voices from phone calls, listen to your favorite music or hear audio from movies, directly in your hearing aids. As this is a native functionality to the latest iOS for Apple® devices, you don't even have to download an app. It's all ready to go.
Complete control wherever you are
To get even more out of the direct connection to your iPhone, you can download the free Beltone HearPlus app. The app works like a full-functional remote control that lets you change hearing aid programs and volume, and helps you locate lost hearing aids.

This tiny, elegant hearing aid fits discreetly behind your ear, so you can forget it's there. Yet it's packed with allthe latest technologies to bring you a life full of great sounds.
HPF80 NanoBlock for ultimate protection
Beltone First hearing aids are coated with HPF80 NanoBlock that forms a protective layer to guard them from moisture and sweat. So whether you enjoy walkingin the park, or running a marathon, your hearing aids will handle it.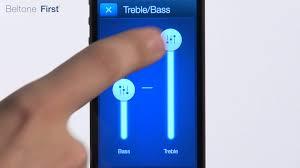 Better hearing means better relationships.
Which is why we packed this tiny hearing aid full of the latest technologies to give you clear, crisp, detailed sound, however noisy it gets around you.
CrossLink Directionality delivers sound to the brain the way it was intended. So you can pick out people's voices in noisy environments, like restaurants and concerts; and hear what you need to hear, like traffic from behind or if someone calls for help.
Smart Gain Pro and Sound Cleaner Pro automatically identify changes in your listening environment and remove noises, so you hear thewhole conversation.
Feedback Eraser with WhistleStop gets rid of unwanted noises and whistling when you use thephone, or hug your relatives.
Ear-to-Ear Synchronization automatically applies program and volume changes from one hearing aid to the other, so you never have to change settings on both instruments.
Synchronized Satisfy lets you acclimate to your hearing aids more easily and helps you avoid any discomfort from loudness when you start wearing them.

With Beltone First and the Beltone 2.4 GHz Personal Wireless Network™ you'll be able to enjoy total freedom from a whole range of easy-to-use wireless accessories.
Beltone Direct Phone Link 2 and SmartRemote
Clip the Direct Phone Link 2 to your shirt or jacket and enjoy hands-free phone conversation. You can also combine it with the Beltone SmartRemote app to usean Android™ phone as a full-function remote control. It doesn't get much easier.
Beltone Direct Remote Control 2
Adjust the volume in one or both hearing aids, change programs, or switch between your stereo, TV or PC. It's easy to make adjustments on the large display using the simple controls.
Beltone Direct TV Link 2
Hear everything from your TV without having to weara relay device or neck-loop. Walk around the room and enjoy programs at a comfortable volume. DirectTV Link 2 also works with stereos and PCs and has Dolby® Digital Conversion, which makes it compatible with almost any TV.
Beltone Direct Personal Audio Link (myPAL)
If you're at a conference, speech, or social event, just clip on a Beltone myPAL to the person you want to hear, and enjoy every word.