Beltone Force hearing aids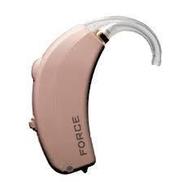 Beltone FORCE has just the right combination of super-power and flexibility. It offers:
A more precise fit because it has the flexibility for you to apply the right amplification.
Feedback management that focuses on the mid frequencies to meet the specific needs of people with severe and profound hearing losses.
High audibility to ensure adequate power for severe to profound hearing loss.

The robust design of Beltone FORCE can withstand the kind of treatment that a superpower hearing aid might experience. For example, the volume control has a protective rubber cap that keeps out moisture and dirt, and the battery spring is gold-plated to protect it from sweat and prevent corrosion.
Beltone FORCE has a sensitive telecoil that helps your customer listen and communicate at public places like theaters, airports and places of worship. Compatibility with industry standard FM equipment means that it's also easy for them to get connection with external sources. Beltone FORCE also supports regular phones, phones equipped with induction magnets as well as cellular handsets.
A comfortable transition
Beltone FORCE is easy to get used to because it can be set to resemble the familiar sound of your customers' existing hearing aid and their specific hearing ability. Whatever their needs are, the flexible nature of Beltone FORCE allows you to guide them through a smooth transition by gradual adjustments.
Options:

*Program control
*Volume control
*Direct Audio Input
*Tele Coil