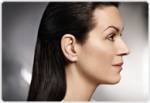 Receiver-in-ear (RIE) - This model is the smallest on the market and can be fitted for you regardless of the nature of your hearing loss. With the receiver placed in the ear canal and an extremely thin tube connecting the small component behind the ear, it's practically invisible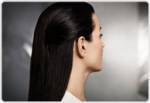 Behind-the-ear (BTE) – This new design makes the hearing aid significantly smaller than what you would expect for this traditional type of instrument. A comfortable fit that's barely noticeable.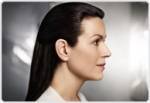 Custom-made in-the-ear (ITE) – If you prefer to have your hearing aid placed in the ear, Beltone Reach has an extensive offering that will match your hearing loss with a variety of features to fit your specific needs
Words come alive
Beltone Reach automatically zooms in and out to focus on sounds in front of you and next to you. At the same time, it dampens sounds around you that might otherwise distract you in your conversation. With Reach, you can communicate with family, friends or business associates, even in noisy surroundings.
Make the most of your natural listening abilities
With Monitored Directionality™, Reach focuses one ear on speech, while the other monitors the sounds around you. It's designed to mimic your brain's natural ability to determine what sounds you should focus on.
Adapts to the Way You Live
Beltone Reach automatically adjusts amplification to your needs. It detects and suppresses wind noise to make sure you can comfortably enjoy your outdoor activities. It even learns your volume preferences and automatically adjusts the sound level for you. Reach can be fine-tuned to match your exact hearing needs in up to seven of the sound environments you most often encounter. Your hearing instruments then automatically detect which environment you're in and change settings accordingly. With all the automatic features in Beltone Reach, you don't have to think about your hearing instruments. You're free to live your life the way you want to.
Small. Elegant. Discreet.
Beltone Reach is available in all of our most popular styles. You'll find the natural, discreet look of Beltone Reach surprisingly small and attractive. All models in this series have been designed to make you look and feel confident. Beltone Reach allows you to enjoy the things in life that really make a difference.
Confidence
You can choose from a newly designed line of very small and cosmetically attractive hearing solutions. You get a distinctive touch of confidence.
Understanding
Beltone Reach can be set to automatically zoom in and out on voices allowing you to fully participate in conversations. Now words come through like never before.
Freedom. Beltone Reach automatically adjusts amplification to the optimal level when you enter a new environment. It gives you a distinct sense of freedom.
Peace of mind
Beltone Reach features a unique option for relief if you suffer from tinnitus. Now, you can regain the distinct pleasure of peace of mind.
Small. Elegant. Discreet.
Beltone Reach is available in a new friendly and discreet design. The models are smaller than you would expect and have a curvy shape to ensure you the highest comfort. Beltone Reach models are remarkably slim and light, so they will not push out your ear and they can easily be worn with glasses.
The luxury of choice
Choose between these 17 colors. Find the color that matches your hair, blends in with your skin, disappears in the shadow behind your ear.
All Beltone Reach models have raised the performance bar and reduced the size dimension. Therefore, we still offer you a number of optional functionalities so you can find a solution that fits your personal needs and lifestyle. Regardless of the model, Beltone Reach doesn't compromise on performance or your comfort.
The most comprehensive offering ever

Beltone Reach is available in open, standard and high power configurations. And the various choices make it even more flexible to fit your exact needs and requirements for a hearing solution. Beltone Reach offers smaller instruments that don't compromise on performance.
Open fitting If you have a mild to moderate hearing loss you can choose a Beltone Reach model with an open fitting. Open fittings are cosmetically attractive and comfortable to wear. They provide a natural sound quality which will not give you a "plugged up" sensation in your ears.
Standard power. The flexibility of the Beltone Reach hearing aids allows you to have a standard power solution and simultaneously enjoy a small, high performing hearing aid.
High powerIf you have a stronger hearing loss, Beltone Reach offers high power versions. The new design of the Power BTE makes it very small and cosmetically attractive. You can also choose a custom molded Beltone Reach in the ear (ITE) hearing aid.
Program selector. Most Beltone Reach models come with a push button for you to enjoy up to 4 environmental programs tailored to your hearing needs. You can then manually switch between programs.
Volume control
A volume control enables you to adjust the volume level manually whenever you feel that is needed. Beltone Reach models are available with volume controls.
Direct Audio Input
With some of the Beltone Reach models you can have a Direct Audio Input (DAI) facility. DAI allows direct connection of sound sources such as radio and television to your Beltone Reach hearing aid.
Telecoil
You can choose to have a telecoil option with your Beltone Reach hearing aid. The telecoil solution transmits the sound directly to the hearing aid and is useful in theaters, churches and airports.