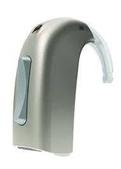 Oticon Acto is a family of high performing, mid-market hearing instruments suitable for hearing losses from mild to severe-to-profound. The RISE 2 platform offers great sound fidelity and full wireless connectivity. The instruments range from tiny CICs to elegant miniBTE and miniRITE styles to power instruments. High fitting flexibility is ensured by 3 RITE power levels, in-situ audiometry and multiple user programs. ConnectLine provides connectivity for phones, microphone, mp3, PC and TV use.

Relaxed quality listening Binaural Synchronisation restores stability and balance to the sound impression produced by two hearing instruments. Binaural decision making ensures that directionality and noise reduction are aligned in both ears to create a consistent sound reception in all situations.
Binaural Dynamic Feedback Cancellation is an advanced feedback management system that reduces the like lihood for feedback and gains better comfort.
Multi-band Adaptive Directionality Directionality provides optimised speech understanding by suppressing multiple interfering noise sources. Multi-band Adaptive Directionality selects Split mode in situations with speech in noise to help the ability to focus on speech. In typical calm environments, Surround mode is selected to give best overall awareness.

Full Directionality is applied to optimise intelligibility in excess noise situations.
TriState Noise Management TriState Noise management increases listening comfort across various listening environments. The sound environmentis constantly analysed to seamlessly balance the noise processing strategy according to sound level, speech and noise conditions.

Family Features
❍ Binaural Synchronisation
❍ Binaural Coordination
❍ AI Advanced [+]
❍ Front Focus
❍ Multi-band Adaptive Directionality
❍ TriState Noise Management
❍ VC Learning
❍ Fitting Bandwidth 8 kHz
❍ Automatic Adaptation Manager
❍ Binaural Dynamic FeedbackCancellation 2 (DFC 2)
❍ Open Ear Acoustics
❍ Wind noise protection
❍ NAL-NL1, NAL-NL2 and DSL v5.0a m[i/o]
❍ Memory
❍ Four user programs
❍ AutoPhone program
❍ Streamer & ConnectLine enabled
❍ nEARcom Cordless enabled
❍ Auto Adaptation Manager
❍ In-situ audiometry

Clinic Echo sells hearing aids at southern Israel - from Ashdod to Arad. For the people that make it difficult to come to our clinic, we offer all services on-site - working or living.