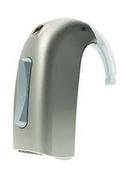 Vigo Connect offers MORE than any other instrument in its price class. Sensational sound, speech intelligibility, ease-of-use, automatic adjustment, seamless connectivity to phones, TV and music players - to give you excellent hearing in every situation you encounter.
Connect to your world – sensational sound for everyday situations. When designing Vigo Connect, we looked at the everyday challenges facing people with hearing loss. Essential sounds, such as the soft voices of small children, an approaching car, or an important presentation at work. Based on the latest technologies, Vigo Connect performs brilliantly to make all those vital sounds bright and clear so you are always keenly aware and part of the action.
Connect to those who matter – superior speech comprehension A social gathering or a chance encounter outdoors - this intelligent hearing instrument makes speech stand out clearly in any situation. Speech enhancement and automatic reduction of background noise ensures you can clearly hear what people are saying even with unwanted noise all around you. Connect to your phones, TV, PC, radio and music devices.
Vigo - Connect supports ConnectLine solutions that allow hearing aid users the freedom to talk on the phone, enjoy TV and listen to music with the same ease and volume settings as everyone else. Sounds are streamed directly and wirelessly to your Vigo Connect, giving you clear sound tuned to your individual hearing. If the phone rings while you are watching TV, a single touch on a button will switch to the phone and enable a hands-free conversation.
Designed for simplicity, ease of use and changing environments. Vigo Connect takes care of itself, continuously and automatically adjusting its settings and volume to match your actual listening situations, assuring you of great sound quality and speech intelligibility wherever you go. If you do occasionally wish to change volume or a sound program, just a single touch of a button instantly tunes both instruments with each other. Value for money – get premium features at an affordable price.
We believe in reaching more people with the best technologies available today. Now you can stay within your budget without compromising quality. Vigo Connect supports superior sound technology, advanced intelligence, wireless connectivity and other features previously found only in premium-priced hearing instruments.
Powerful yet discreet and a huge range of styles and colours. Feel confident when communicating with others. Vigo Connect is so small, light and discreet that you hardly notice you are wearing it. An abundance of style choices lets you match your device to your personal needs and expectations. Select a style that fits inside the ear or discreetly behind it. Vigo Connect comes in many colours, including shades to match your hair or skin tone.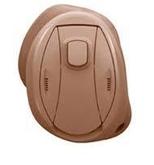 Clinic Echo sells hearing aids at southern Israel - from Ashdod to Arad. For the people that make it difficult to come to our clinic, we offer all services on-site - working or living.