Widex Bravissimo hearing aids.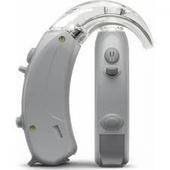 100% digital power BTE
Bravissimo is a high quality, 100% digi­tal hearing aid engineered in the renowned Widex tradition. The Bravissimo series comprises acomplete selection of models helping to give everyone access to the significant advantages of digital hearing aids.
Recommended for:
•Moderate to severe-to-profound hearing losses.
•Most hearing loss configurations including conductive, sloping and flat losses.

Bravissimo BV-18 features include:
•3 channel DSP (Digital Signal Processing).
•Wide Dynamic Range Compression to maximise speech intelligibility and listening comfort.
•Automatic Feedback Management for reduction of acoustic feedback.
•Automatically calculated variable crossover frequencies.
•Easily programmed with Compass/NOAH or SP3.
•Fitting rationale calculated from 4 audiometric hearing thresholds.
•Paediatric rationale and ABG compensation.
•Flexible and accurate fine tuning system including automatically calculated MPO, Insertion Gain adjustment and Feedback verification, all in 3 channels.
•Microphone Noise Reduction eliminates audible internal noise.
•Sound Stabilizer combines advantages of fast and slow regulation times to ensure audibility and natural sound quality.
•Improved input dynamic range.
•Push-button program selector.
•Flexible program selection with beep-tone indicator.
•Equalised telecoil frequency response, adjustable telecoil gain and anti-hum filter.
•Digital Volume Control (+/- 6 dB range) with beep-tone adjustment indicator.
•Direct audio input.
•Battery drawer lock available for use when worn by children.
•CROS and BiCROS adaptor available.
•Available in 3 standard colours as well as in 7 modern, transparent colours.
•Long battery life of approximately 435 hours, using zinc air type 13 battery.
•Low battery beep-tone indicator.
•1MHz/1bit sigma/delta converters.
•32 kHz/20 bit processing.
•Easy and accurate fitting