Widex Bravo hearing aids.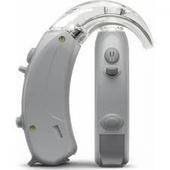 • Programmable (SP3 or Compass)
• 2 channel DSP
• Wide Dynamic Range Compression
• Digital Volume Control

The Bravo Digital Signal Processor (DSP) works with 20-bit representation of the signal and a sampling rate of 32kHz. Bravo B32 is a superbly.

The WDRC system used in the Bravo B32 modelsis an extension to the HLC system where the compression kneepoints have been lowered in both channels. This means that the insertion gain on models with WDRC is higher for soft inputs compared to models with HLC. The result is an increase in the user's range of acoustical awareness because soft sounds become audible.
Programming
Bravo B32 can be programmed using the SP3 portable programmer or via a PC using NOAH/Compass software. Please refer to the Bravo series programming manual.
Feedback Management
If the ideal gain required for compensating for a certain hearing loss exceeds the limit for theear mould, acoustic feedback will occur. To solve this problem the high frequency gain may have to be reduced. The programmable parameter "HF" allows the gain in the high frequency channel to be reduced without affecting the gain in the low frequency channel and it therefore functions as feedback control.

Bravo B32 features include:
• 2 channel DSP (Digital Signal Processing).
• Wide Dynamic Range Compression to maximise speech intelligibility and listening comfort.
• Feedback Risk Management for reduction of acoustic feedback.
• Variable crossover frequency.
• Special digital fi tting philosophy based on keyed-inaudiometric values.
• Digital Volume Control (± 6 dB range) with beep-tone adjustment indicator.
• M, MT, and T program switch. The telecoil frequency response is equalised, making it identical to that of the microphone.
• Long battery life of approximately 500 hours.
• Low battery beep-tone indicator.
• Minimal audible internal noise due to special processing.
• Direct audio input.
• Tamper resistant battery drawer.
• Available in new Widex colours.
• CROS and BiCROS adaptor available.
• Mini-hook available for small ears.