WIDEX DAILY

™ hering aids.


Most clients have high expectations when it comes to the performance of high-end hearing aids.

Daily users don't just hear more sound - they experience a marked improvement in speech

intelligibility - even in noisy environments. This enables you to better meet the demands of your clients.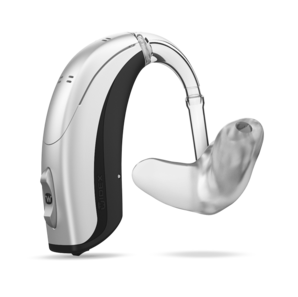 WIDEX DAILY features True-Input Technology that dramatically widens the input range (up to 113 dB SPL) and maintains the
fidelity of all sounds entering the hearing aid. This gives a larger, usable sound picture, with no input handling artifacts, allowing
for an almost true-to-life listening experience.
General Features
Widex have launched their new Daily range of hearing aids. It is available in four levels of technology, the Daily 440, 330, 220, and 110, with the 440 being the top level of technology within the range. The Widex Daily 440 offers a choice of six hearing aid styles. RIC (Receiver In Canal), RITE (Receiver In The Ear), Micro BTE (Behind The Ear), BTE (Behind The Ear), CIC (Completely In Canal) and ITE (In The Ear). Each of theses models are available in a variety of colours to suit your individual style.
The Widex Daily 440 contains their new chip technology known as True ISP. This means better sound quality and faster signal processing. It also offers connection to a range of innovative new features such as InterEar technology, DEX wireless accessories and MY.WIDEX.COM which is a new personal site for hearing aid users.
With the launch of the Daily, Widex have introduced some new features to further enhance your listening experience. Personal Acclimatisation allows you to control the level and pace of your hearing aid's acclimatisation to ensure not only automatic, but personal changes. The new Personal Zen feature means you can now personalise the hearing aid to deal with your individual tinnitus needs using a range of harmonic tones.
The Personal Audibility Extender offers a more individual way to help those who have little, or perhaps no hearing at all when it comes to the higher frequency sounds.Along with these new features, the Widex Daily 440 also offers 15 channel sound processing which allows the hearing aid to be more specifically programmed for your individual hearing loss. It also has 5 programmes which can be set up to manage your hearing needs in different environments and situations.Also available on the Daily 440 is the TruSound Softener. This feature helps to cushion the impact of sudden loud noises, maintaining your listening comfort.
Feedback Cancelling is designed to minimise any irritating whistling noises that may sometimes occur and the Speech Enhancer SII will focus on the voice you want to hear in a crowd and make it clearer. The Daily 440 also offers Noise Reduction to help eliminate any unwanted background noise.Another feature of this hearing aid is Digital Pinna. This feature means your hearing aids will recreate the natural acoustics of your ear to ensure you receive a clear and natural sound.
The Widex Daily 440 is also compatible with the DEX range of wireless accessories giving you more freedom to enjoy everyday activities.
The Phone-DEX is a landline device designed to work with your hearing aids but it can also be used as a normal landline phone.
The M-DEX allows connection to your mobile phone via Bluetooth and is also an advanced colour display remote control for your hearing aids.
The TV-DEX is an accessory designed to help you enjoy watching television with no more arguments over the volume levels. This device streams the sound from your TV directly into your hearing aids without echoes or delays. It also has a 'Room Off' option which allows you to temporarily turn off the microphones on your hearing aids so you can hear the TV without being bothered by background noise.
The RC-DEX is a small remote control which can be easily attached to a keyring. It allows simple control of your hearing aids essential features such as volume control and programme selection.

Standard Technology
* TrueISP
* True-Input technology
* Widex Link - Wereless connectivity
* Inter Ear functionality
* Multiple earware 0ptions
| | | | | |
| --- | --- | --- | --- | --- |
| Kye Features | Daily 440 | Daily 330 | Daily 220 | Daily 110 |
| Performance | ***** | **** | **** | ** |
| Processing Channels | 15 | 10 | 5 | 3 |
| TruSound Softener | + | + | - | - |
| HD locator/Locator | HD | HD | HD | + |
| Feedback cancelling IE | + | + | + | - |
| Digital Pinna | + | + | - | - |
| Speech Ecnhancer IE | IE | + | - | - |
| InterEar Partner Monitor | IE | - | - | - |
| Phone+ | + | + | - | - |
| Reverse Focus | + | + | + | - |