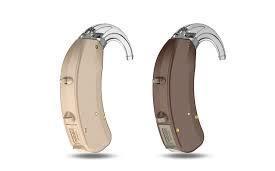 MENU is a flexible solution that not only sounds great, but can be customized for your client's hearing loss and lifestyle. With MENU the choice is yours.

MENU SUPER POWER
MENU SUPER POWER, is our classic super power hearing aid, which combines the MENU family with advanced features for profound hearing loss according to your needs, preferences and budgets. It provides you with all the power you need to easily deal with everyday challenges while still delivering clear, superb sound. Comfortable to wear and very easy to use, MENU Super Power can be quickly fine-tuned to suit your exact hearing needs. In addition, we have made sure that the annoying effects of feedback, or whistling, are reduced so you can hear clearly, no matter what the situation.
KEEPS ON WORKING
We know how much you rely on your hearing aid, and MENU SUPER POWER is built to work and work. Widex has a reputation for high quality and stable performance – and MENU SUPER POWER is no exception. Your hearing care professional can help you choose which model is right for you – there are different listening programs available as well as a choice of three different channels and two colors.
MENU-SP takes proven Widex technology to the profound segment. As a classic super power BTE with a standard hook, MENU-SP is ideal for super power users who demand adequate amplification and all-round audibility. We have designed MENU-SP to be easy to use so users do not have to worry about complicated programs and features. The Advanced Feedback System in MENU-SP allows users to hear more sound without the annoyance and frustration of feedback. And as part of the MENU family, it can be tailored exactly to your clients' needs. Its flexible platform means that they can choose between 3, 5 or 10 channels, and you can meet their amplification needs with easy fine-tuning.
SUPER POWER, SUPER AUDIBILITY
*SUPER PROTECTED - IP58 certified, MENU - SP is water and dust resistant
*COMFORTABLE SOUND - MENU- SP provides users with superb Widex sound
*KEEPS ON WORKING - Menu- SP is one of the most reliable on the market
*LESS FEEDBACK, MORE SOUND - MENU- SP has the advanced feedback cancelling technology

With MENU add-ons, you can help users choose unique Widex features to match their hearing needs and their budget.

HD locator with speech tracer
This directional microphone system aids noise reduction and helps users understand speech from varying directions; theHD Locator is fully adaptive so it produces the best signal-to-noise ratio for the relevant listening environment.

Audibility extender
The Audibility Extender expands the range of audible sounds by movingin audible sounds – like high-frequency speech and environmental sound – down to lower frequencies where they can be heard.

Speech enhancer
The Speech Enhancer dampens unwanted noise and increases speech intelligibility– all while providing a comfortable listening experience.

Sound diary
The Sound Diary allows you to easily monitor users' data and hearing aid use –including characteristics of their listening environment and program selection – so you can fine-tune and provide better counselling.

SmartSpeak
Smart Speak uses actual recorded speech to inform users of various hearing aid functions such as low battery and program selection.