Oticon Nera2
Oticon Nera2 is built on the Inium Sense platform. Nera2 provides its users with advanced listening performance and can be adjusted to the individual's listening preferences. Based on the VAC+ rationale and Soft Speech Booster, Nera2 factors in differences in loudness perception and optimizing the listening experience in soft sounds.
Nera2 family styles range from compact in-the-ear options to a broad palette of behind-the-ear styles. The style range includes the new BTE13 105 Plus Power style, a compact power instrument. It targets severe-to-profound hearing losses.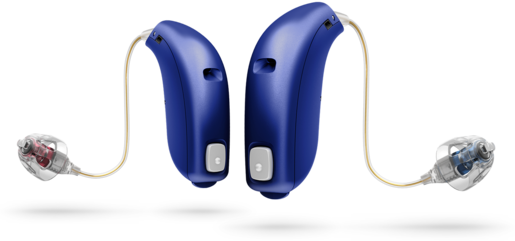 Soft Speech Booster
Soft Speech Booster is a feature of VAC+ that provides increased levels of soft gain at high frequencies. The feature enhances the details of soft speech signal sand is adapted to client's individual need sand preferences for soft sounds and soft speech. The new Soft Sound Perception trimmer in Genie adjusts how the soft gain provided by Soft Speech Booster is delivered to each client.
Spatial Sound Advanced
In a binaural fitting, Spatial Sound Advanced enables users to better organise the environment around them .Due to broad bandwidth, flat frequency response and real-time binaural processing, Spatial Sound Advanced helps to convey more of the natural characteristics of a physical environment and the origin of the sounds within it.
YouMatic Advanced
YouMatic is a personal automatic system programmed to the client's individual needs and sound preferences. YouMatic controls the sound processing across multiple environments by adjusting the response, directionality, noise management, and transient management.
Inium Sense feedback shield
Inium Sense feedback shield significantly reduces feedback without compromising sound quality or comfort.
Family Features
❍ Spatial Sound Advanced
❍ Binaural Processing
❍ Binaural Synchronization
❍ Binaural PB Coordination
❍ YouMatic Advanced
❍ Soft Speech Booster
❍ Voice Aligned Compression (VAC+)
❍ Fitting Bandwidth 8 kHz
❍ Inium Sense feedback shield
❍ Free Focus Advanced
❍ Life Learning
❍ Activity Analyzer
❍ T-coil
❍ AutoPhone Program
❍ Power Bass (streaming)
❍ Music Widening (streaming)
❍ TriState Noise Management
❍ Transient Management
❍ Multi-band Adaptive Directionality
❍ NAL-NL1, NAL-NL2 andDSL v5.0a m[i/o]
❍ Flexible miniFit receiver system
❍ ConnectLine and Remote Control
❍ DAI input and FM option
❍ In-situ audiometry (Genie)
❍ IP58 water resistant certified
| | | |
| --- | --- | --- |
| Features | Oticon Nera2 Pro | Oticon Nera2 |
| Spatial Sound | Advanced | - |
| Binaural Processing (compression) | + | - |
| Fitting Bands | 8 | 6 |